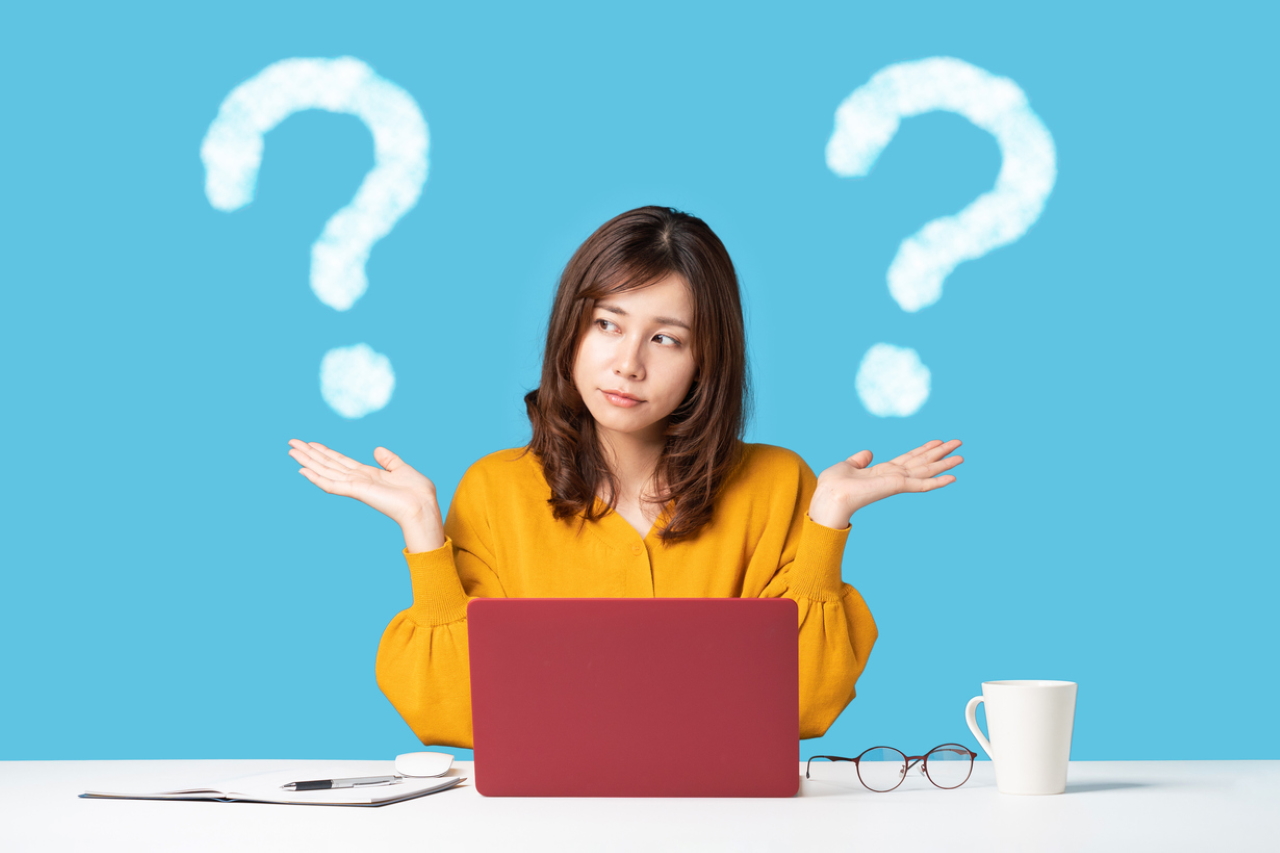 Why BookFunnel?
Authors often ask me why I recommend BookFunnel and which subscription they should choose.
Winning Features
Safely and Easily Share Your Book
BookFunnel is a safe, easy way to share your book files with reviewers, beta readers, and giveaway winners. This single platform allows you to upload and share:
Mobi file for Kindle,
EPUB file for e-reader, and
PDF file for PC/other
You can then create a landing page and send one link to beta readers, book reviewers and giveaway winners for download of whichever file they prefer.
Once the reader has the landing page link, everything is automated and the download is immediately delivered to them. The best part – if they have any issues, BookFunnel offers customer service so you aren't acting as Aunt Mildred's tech guru. (Yikes!)
Build Your Email List
BookFunnel provides an effective way to grow your email list. Upload:
a free book,
audiobook,
short story,
recipes, or
other digital deliverables
to BookFunnel and create a giveaway landing page. The landing page link can then be inserted into the back of your ebooks and shared on your website and social media accounts. BookFunnel will deliver the giveaway item immediately while also collecting contact information for your email list.
Even better, BookFunnel offers mail list integration to connect to the list of service providers below and add emails to your newsletter subscriber list.
AWeber
Constant Contact
ConvertKit
Flodesk (through Zapier)
Patreon (not a mailing list service)
SendFox
Sendy
The mailing integration feature allows you to automatically add contacts to your mailing list as BookFunnel collects them. Allowing you to use those email addresses immediately for marketing of new titles, backlist titles, courses in connection with your book, and more.
Which Plan is Best for Me?
If you go to https://www.bookfunnel.com, you will find a pricing button at the top of the home page. Click that link to check out the three most popular BookFunnel Plans. (Or click HERE to go directly to the pricing page.)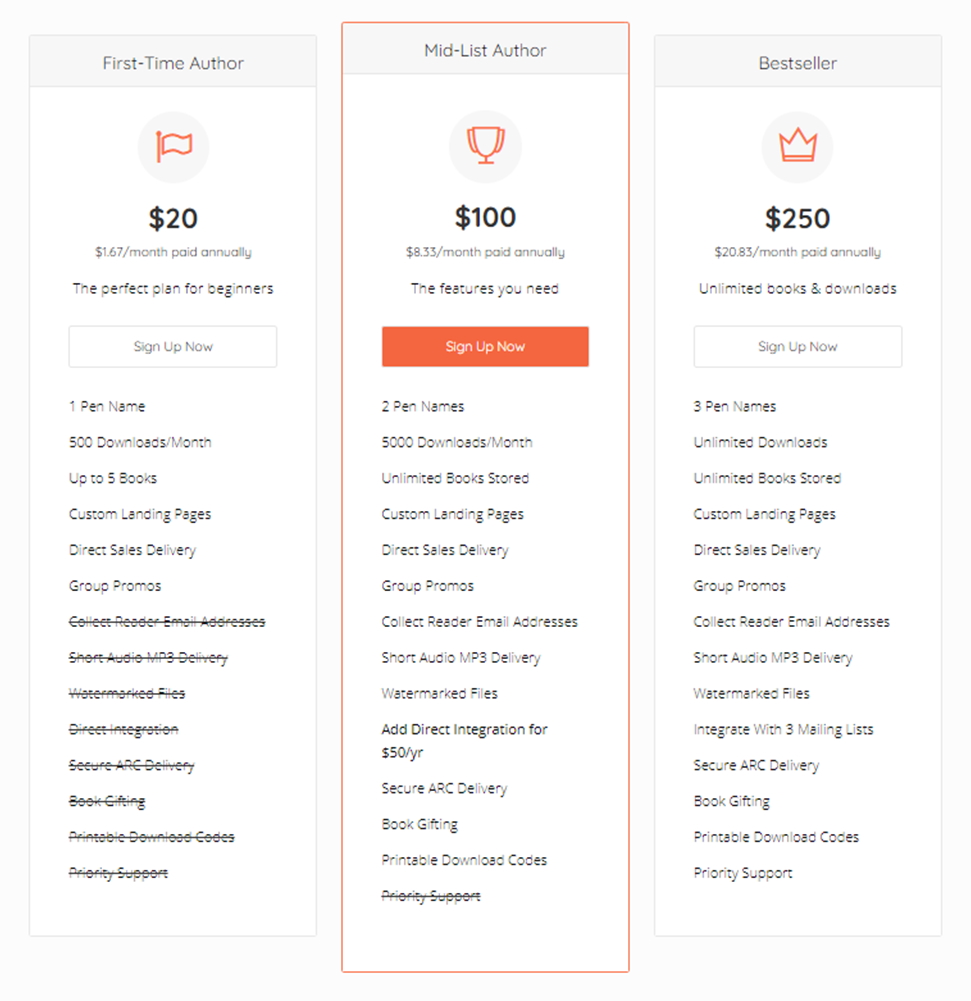 The First-Time Author
The First-Time Author option is meant for one author and permits one pen name and 500 downloads – which is a lot. This option is also only $20 a year, so it's super cost-efficient! This plan allows you up to five books and gives you the ability to create custom landing pages. You can do direct sales delivery as well and group promos to build up your review list.
The biggest drawbacks to the $20 plan are that you can't collect email addresses, and unfortunately, you won't have access to audio options if you have an audiobook or audio sample you'd like to share. Additionally, this plan doesn't offer secure delivery book giftings–an option available with the other two programs.

The Mid-List Author
Because you can collect emails and use Audio MP3, I recommend most authors get the Mid-List Author plan. At $100 per year, you get up to two pen names and 5000 downloads a month. This might be more downloads than the average author needs, but I've never seen anyone complain about that. Plus, you get unlimited books stored, and of course, the ability to create custom landing pages. The Mid-List Author also gives you watermarks on your files, direct ARC delivery, book gifting, and printable download codes.
The Mid-List Author plan offers direct email integration for an additional $50 per year. If you don't want to pay for that, you might need to set up one day a month to download and add subscriber emails to your mailing list.
The Best Seller
If you are a best-selling author and putting out a great number of books, or maybe you have a group of authors because you are starting a publishing business, you might want a more robust plan like the one for $250 per year. However, in my experience, most authors don't need anything more than the Mid-List Author plan. One significant advantage to the Best Selling Author subscription is you do get priority support from BookFunnel.
Self-Publishing Tools: Created by Authors for Authors
According to their website, BookFunnel is a company created by authors to give Indie authors what they need to succeed. Among other things, they provide self-publishing writers a secure place to download files and share one link with those interested in reading their book. They make it easy to build an email list of those who want to read your next book.
My takeaway – BookFunnel delivers affordable tools to help you win at marketing your book. Highly recommended.