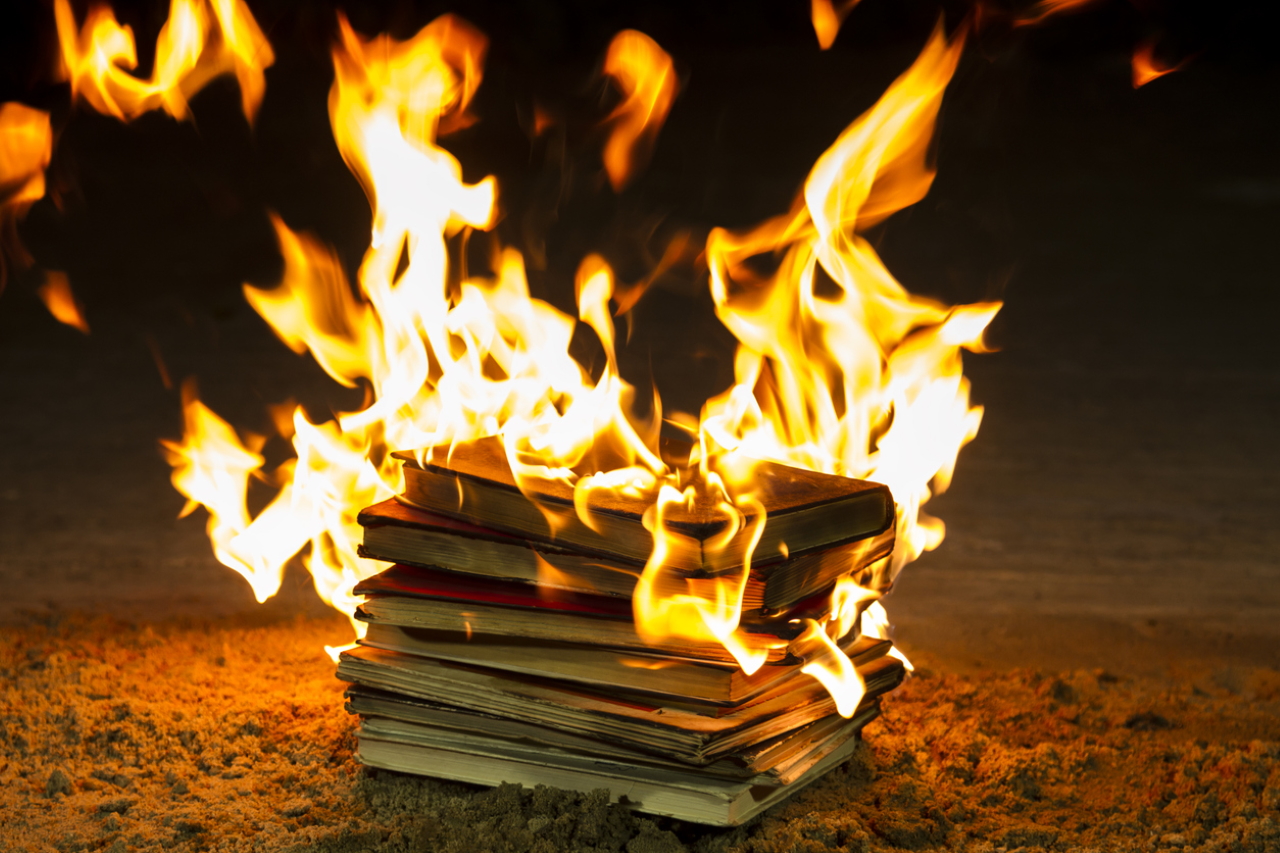 Last week New Shelves released an article on the American Library Association "State of America's Libraries" annual report. This week we are focusing in on the ALA's list of the most "challenged" books of 2020 – many of which were later banned from library collections. That's right. Not only does the ALA track this information, but they also have a whole division, the Office for Intellectual Freedom (OIF), that according to a recent press release "tracks attempts to ban or restrict access to books across the United States and to inform the public about censorship efforts in our libraries and schools."
We found it remarkably interesting that the most likely group to challenge a book was parents who accounted for exactly 50% of all complaints in 2020. The other half of the challenges came from library patrons, board members, political or religious groups, elected officials and students. 53% of challenges were submitted to schools and/or school libraries, with challenges to public libraries bringing in a close second at 43%.
All told, there were 273 reported challenges (156 tracked directly by the ALA Office for Intellectual Freedom) made to censor books in 2020 citing a myriad of reasons from "profanity" to "religious viewpoint" and "racial slurs. " Discover the top ten most challenge books of 2020 according to the American Library Association report below.
10 Most Challenged Books of 2020
1. George by Alex Gino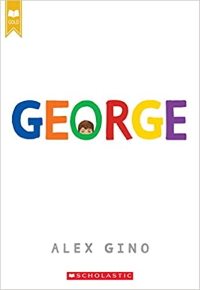 Publisher Description: When people look at George, they think they see a boy. But she knows she's not a boy. She knows she's a girl. George thinks she'll have to keep this a secret forever. Then her teacher announces that their class play is going to be Charlotte's Web. George really, really, REALLY wants to play Charlotte. But the teacher says she can't even try out for the part . . . because she's a boy. With the help of her best friend, Kelly, George comes up with a plan. Not just so she can be Charlotte — but so everyone can know who she is, once and for all.
Reason for the challenge according to the ALA: "Challenged, banned, and restricted for LGBTQIA+ content, conflicting with a religious viewpoint, and not reflecting "the values of our community"".
2. Stamped: Racism, Antiracism, and You by Ibram X. Kendi and Jason Reynolds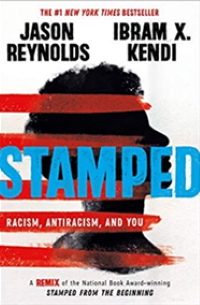 Publisher Description: The construct of race has always been used to gain and keep power, to create dynamics that separate and silence. This remarkable reimagining of Dr. Ibram X. Kendi's National Book Award-winning Stamped from the Beginning reveals the history of racist ideas in America, and inspires hope for an antiracist future. It takes you on a race journey from then to now, shows you why we feel how we feel, and why the poison of racism lingers. It also proves that while racist ideas have always been easy to fabricate and distribute, they can also be discredited.
Through a gripping, fast-paced, and energizing narrative written by beloved award-winner Jason Reynolds, this book shines a light on the many insidious forms of racist ideas–and on ways readers can identify and stamp out racist thoughts in their daily lives.
Reason for the challenge according to the ALA: "Banned and challenged because of the author's public statements, and because of claims that the book contains "selective storytelling incidents" and does not encompass racism against all people."
3. All American Boys by Jason Reynolds and Brendan Kiely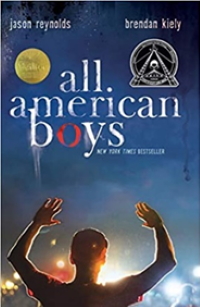 Publisher Description: A bag of chips. That's all sixteen-year-old Rashad is looking for at the corner bodega. What he finds instead is a fist-happy cop, Paul Galluzzo, who mistakes Rashad for a shoplifter, mistakes Rashad's pleadings that he's stolen nothing for belligerence, mistakes Rashad's resistance to leave the bodega as resisting arrest, mistakes Rashad's every flinch at every punch the cop throws as further resistance and refusal to STAY STILL as ordered. But how can you stay still when someone is pounding your face into the concrete pavement?
There were witnesses: Quinn Collins—a varsity basketball player and Rashad's classmate who has been raised by Paul since his own father died in Afghanistan—and a video camera. Soon the beating is all over the news and Paul is getting threatened with accusations of prejudice and racial brutality. Quinn refuses to believe that the man who has basically been his savior could possibly be guilty. But then Rashad is absent. And absent again. And again. And the basketball team—half of whom are Rashad's best friends—start to take sides. As does the school. And the town. Simmering tensions threaten to explode as Rashad and Quinn are forced to face decisions and consequences they had never considered before.
Reason for the challenge according to the ALA: "Banned and challenged for profanity, drug use, and alcoholism, and because it was thought to promote anti-police views, contain divisive topics, and be "too much of a sensitive matter right now".
4. Speak by Laurie Halse Anderson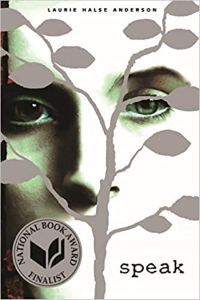 Publisher Description: "Speak up for yourself–we want to know what you have to say." From the first moment of her freshman year at Merryweather High, Melinda knows this is a big fat lie, part of the nonsense of high school. She is friendless, outcast, because she busted an end-of-summer party by calling the cops, so now nobody will talk to her, let alone listen to her. As time passes, she becomes increasingly isolated and practically stops talking altogether. Only her art class offers any solace, and it is through her work on an art project that she is finally able to face what really happened at that terrible party: she was raped by an upperclassman, a guy who still attends Merryweather and is still a threat to her. Her healing process has just begun when she has another violent encounter with him. But this time Melinda fights back, refuses to be silent, and thereby achieves a measure of vindication. In Laurie Halse Anderson's powerful novel, an utterly believable heroine with a bitterly ironic voice delivers a blow to the hypocritical world of high school. She speaks for many a disenfranchised teenager while demonstrating the importance of speaking up for oneself.
Reason for the challenge according to the ALA: "Banned, challenged, and restricted because it was thought to contain a political viewpoint, it was claimed to be biased against male students, and for the novel's inclusion of rape and profanity. "
5. The Absolutely True Diary of a Part-Time Indian by Sherman Alexie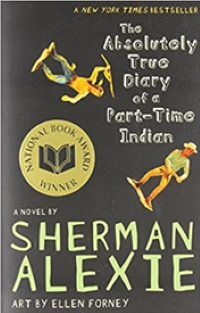 Publisher Description: Bestselling author Sherman Alexie tells the story of Junior, a budding cartoonist growing up on the Spokane Indian Reservation. Determined to take his future into his own hands, Junior leaves his troubled school on the rez to attend an all-white farm town high school where the only other Indian is the school mascot.
Heartbreaking, funny, and beautifully written, The Absolutely True Diary of a Part-Time Indian, which is based on the author's own experiences, coupled with poignant drawings by Ellen Forney that reflect the character's art, chronicles the contemporary adolescence of one Native American boy as he attempts to break away from the life he was destined to live.
Reason for the challenge according to the ALA: "Banned and challenged for profanity, sexual references, and allegations of sexual misconduct by the author."
6. Something Happened in Our Town: A Child's Story About Racial Injustice by Marianne Celano, Marietta Collins, and Ann Hazzard, illustrated by Jennifer Zivoin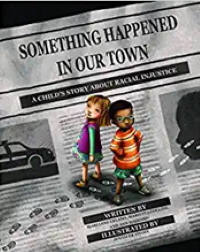 Publisher Description: Something Happened in Our Town follows two families — one White, one Black — as they discuss a police shooting of a Black man in their community. The story aims to answer children's questions about such traumatic events, and to help children identify and counter racial injustice in their own lives.
Includes an extensive Note to Parents and Caregivers with guidelines for discussing race and racism with children, child-friendly definitions, and sample dialogues.
Reason for the challenge according to the ALA: "Challenged for "divisive language" and because it was thought to promote anti-police views."

7. To Kill a Mockingbird by Harper Lee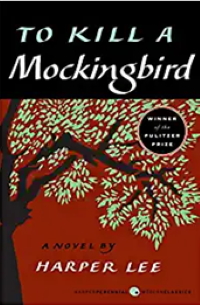 Publisher Description: One of the most cherished stories of all time, To Kill a Mockingbird has been translated into more than forty languages, sold more than forty million copies worldwide, served as the basis for an enormously popular motion picture, and was voted one of the best novels of the twentieth century by librarians across the country. A gripping, heart-wrenching, and wholly remarkable tale of coming-of-age in a South poisoned by virulent prejudice, it views a world of great beauty and savage inequities through the eyes of a young girl, as her father—a crusading local lawyer—risks everything to defend a black man unjustly accused of a terrible crime.
Reason for the challenge according to the ALA: "Banned and challenged for racial slurs and their negative effect on students, featuring a "white savior" character, and its perception of the Black experience."
8. Of Mice and Men by John Steinbeck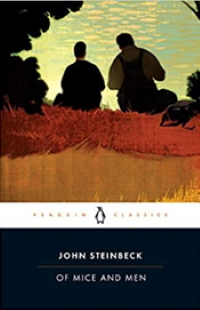 Publisher Description: They are an unlikely pair: George is "small and quick and dark of face"; Lennie, a man of tremendous size, has the mind of a young child. Yet they have formed a "family," clinging together in the face of loneliness and alienation.
Laborers in California's dusty vegetable fields, they hustle work when they can, living a hand-to-mouth existence. For George and Lennie have a plan: to own an acre of land and a shack they can call their own. When they land jobs on a ranch in the Salinas Valley, the fulfillment of their dream seems to be within their grasp. But even George cannot guard Lennie from the provocations of a flirtatious woman, nor predict the consequences of Lennie's unswerving obedience to the things George taught him.
Reason for the challenge according to the ALA: "Banned and challenged for racial slurs and racist stereotypes, and their negative effect on students."
9. The Bluest Eye by Toni Morrison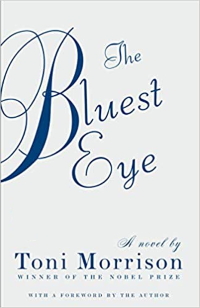 Publisher Description: Nobel Prize winner Toni Morrison powerfully examines our obsession with beauty and conformity—and asks questions about race, class, and gender with her characteristic subtly and grace.
In Morrison's bestselling first novel, Pecola Breedlove—an 11-year-old Black girl in an America whose love for its blond, blue-eyed children can devastate all others—prays for her eyes to turn blue: so that she will be beautiful, so that people will look at her, so that her world will be different. This is the story of the nightmare at the heart of her yearning, and the tragedy of its fulfillment.
Reason for the challenge according to the ALA: "Banned and challenged because it was considered sexually explicit and depicts child sexual abuse."
10. The Hate U Give by Angie Thomas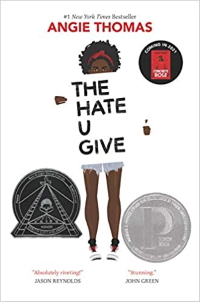 Publisher Description: Sixteen-year-old Starr Carter moves between two worlds: the poor neighborhood where she lives and the fancy suburban prep school she attends. The uneasy balance between these worlds is shattered when Starr witnesses the fatal shooting of her childhood best friend Khalil at the hands of a police officer. Khalil was unarmed.
Soon afterward, his death is a national headline. Some are calling him a thug, maybe even a drug dealer and a gangbanger. Protesters are taking to the streets in Khalil's name. Some cops and the local drug lord try to intimidate Starr and her family. What everyone wants to know is: what really went down that night? And the only person alive who can answer that is Starr.
But what Starr does—or does not—say could upend her community. It could also endanger her life.
Reason for the challenge according to the ALA: "Challenged for profanity, and it was thought to promote an anti-police message."
Connection vs Censorship
Of the ten most challenged books of 2020, seven were written specifically for children and young adults. This may surprised some at first, but keep in mind that 50% of challenges were submitted by parents. And while these books do discuss hard – and even uncomfortable – topics, the ALA warns against censorship.
"Books unite us. They reach across boundaries and build connections between readers. Censorship, on the other hand, divides us and creates barriers."
We submit that this an excellent reason to curate libraries and create reading lists with an open mind; to expand our worldview and bring about discussion and knowledge beyond what we started with.
Let's break down barriers in 2021 – one book at a time.
Editor's note: This article Banning books is a nasty habit, whether it comes from the right or left provides further information on this topic.
Amazon links contain affiliate code.