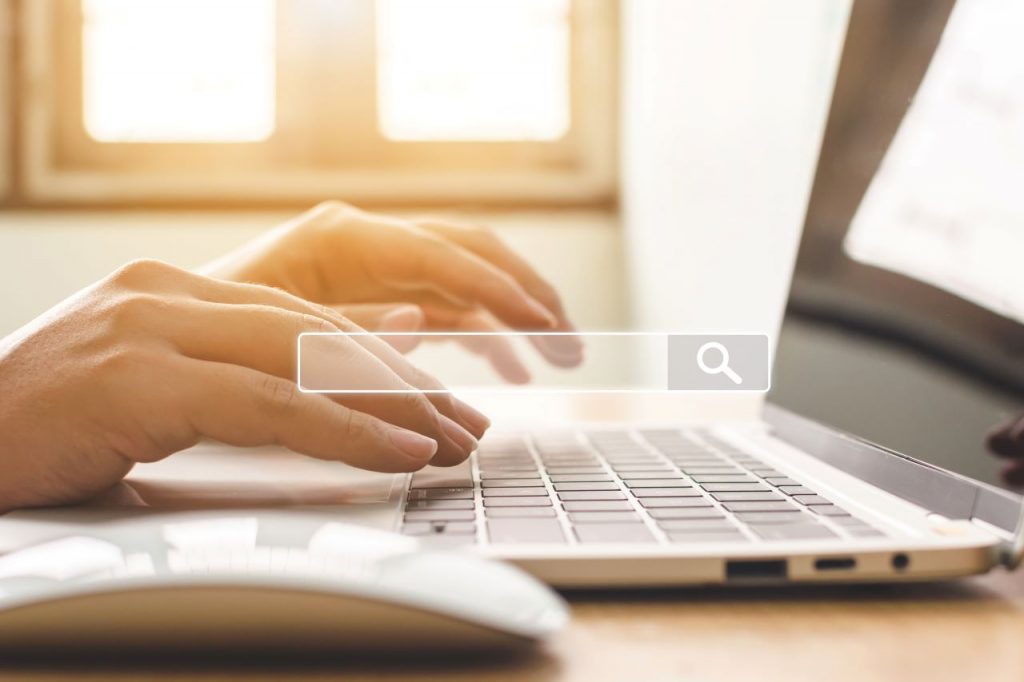 When someone mentions "keywords" in relation to book marketing many authors instantly get overwhelmed. How do you find the right keywords for your book(s), much less use them?
This article will remove the mystery of keywords for authors and walk you through how to easily find and use keywords in your book marketing to dramatically boost visibility, sales and SEO for your book.
Let's start with why you need keywords:
One of my favorite sayings is, "A book that isn't seen is a book that cannot be bought."

Keywords are little tags that help readers find you online and get your book seen. And no, I'm not just talking about on Amazon.
Keywords are used on every website online – book retailers, review sites and general web searches. With over 1 million books being published each year and 165 million .com and .net domain names registered as of the end of 2020, we (and our books) are little fish in a big sea. If we have any hope of showing up in online searches whether it be Google or Amazon, we have got to have a smart keyword strategy.
At New Shelves we challenge authors to start by researching a list of 1,000 keywords for online use.
Next up, how to create your keyword list:
Go ahead and pick your jaw up off the floor. 1,000 keywords sounds like a lot but we have a few hacks and tools that will get you there in no time.
When marketing books the easiest and best place to find keywords is to research comp titles that are already selling well. Keep in mind a great comp author or title may be an apples-to-apples comparison to you or they may simply write to the same audience you do.
Bestseller Lists to Research:
This website offers free and paid options and relies heavily on data from Google. A useful tool when you are looking to improve your overall Search Engine Optimization (SEO).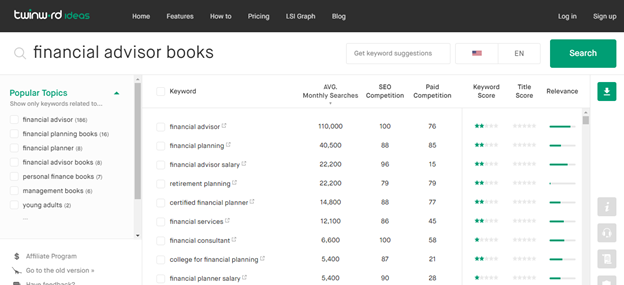 Push Button Publishing offers a paid software suite plug-in called the Book Rocket System. One of the 7 tools, Book Keyword Rocket, allows users to collect keywords while browsing Amazon pages. You literally enable the plug-in, browse Amazon bestseller lists and comp titles and let the Rocket system do the work.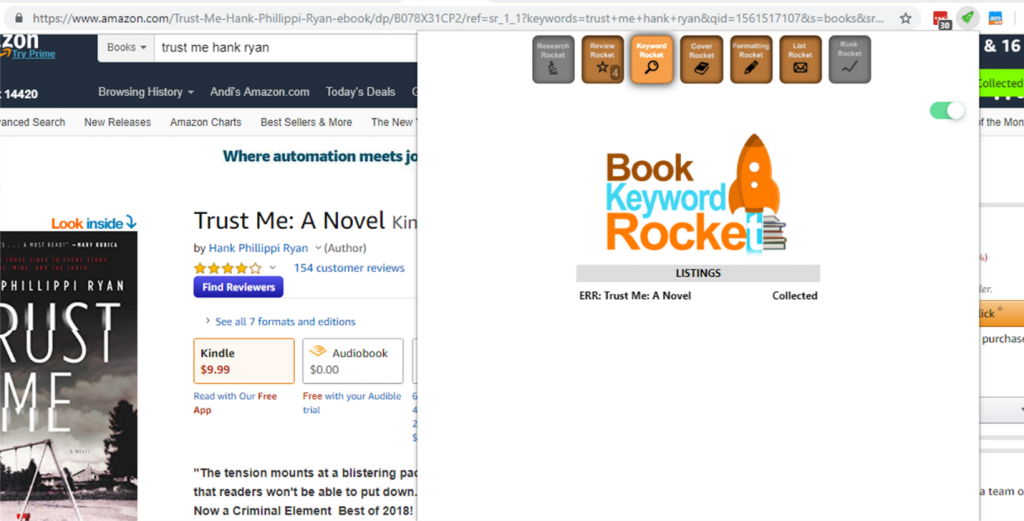 A Book Keyword Rocket search will provide you with search terms, titles, keywords and book ASINs in a text file that is easy to track, store and use. A+ for ease of use and time saving technology.
Along the same lines of the Book Keyword Rocket, Instant Data Scraper extracts data from web pages and exports it as Excel or CSV files. This is a free plug-in that works for any website so you could use it on Amazon as well as other bestseller sites and author or publisher websites. It can be a bit clunky, but if you're on a budget it's a tool worth exploring.
Kindlepreneur has an app called Publisher Rocket. When Dave Chesson first created this program, it was called KDP Rocket and geared toward marketing Kindle books only. However, as KDP Rocket expanded to include features for marketing print books as well as Kindle books, the name was no longer a perfect fit. In May 2019 Kindlepreneur rolled out the updated and renamed app, Publisher Rocket.
One of the things that did not change (aside from improvements and enhancements) is the AMS keyword search feature. Users type in a phrase, competitive title or author that is pertinent to any book on Amazon and Publisher Rocket will spit out a list of keywords in seconds.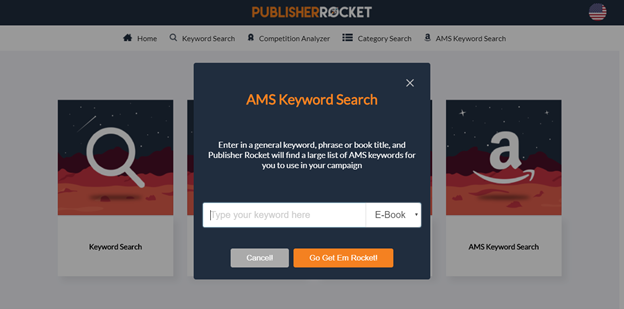 Pick and choose data such as Titles, Author Names, ASIN Numbers, Amazon Suggestions and Similar books to whittle down unwanted keywords.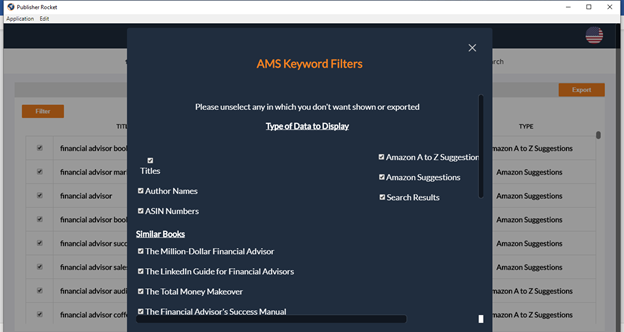 Chesson is always working to improve this app so features are updated and enhanced pretty regularly. This paired with several other marketing features like category analysis are some of the reasons we love Publisher Rocket. Two thumbs up!
Using the tools above you should be able to create your bank of 1,000 keywords with relative ease.
How to use your keywords:
Now that you have a keyword bank of at least 1,000 keywords, below is a list of 7 ways you can use keywords to boost your boost visibility, sales and SEO.
Website
Strategically placed keywords can boost your website SEO dramatically. You can do this in two ways. First, use evergreen keywords (think genre or audience specific) in the structural make-up of your website. Doing this will ensure that your website is always searchable within your genre and general topic or field.For example, a children's book author might choose keywords such as "children's book" and "kids." These keywords will rarely change. However, it is important to also regularly use new keywords to boost SEO and keep your website on the top of the search charts. A great way to do this is by blogging.Blogging is relatively easy, allows you to cover a variety of topics and slip new keywords into your website on a consistent basis. As an added bonus, blogs are a great way to interact with your audience and can help build your mailing list.
Social Media and Google Ads
Many social media platforms allow users to run ads by targeting a specific audience. Authors can easily create an audience by referring to their comp author and title list and searching those keywords as well as general topic interests to create a target audience for social media or Google ads.

Book Title
Sure, you want your title to sound great, but it is also important that your book title has one or two keywords that can easily be searched. This is free marketing.
Book Description
It's important to work keywords into your book description on your website, on Amazon and on any other book pages you may have. Again, take advantage of the opportunities for free marketing.
Author Central
Do you have an Author Central account? If not, go get one. It's a free landing page hosted by Amazon where readers can learn all about you and your books on one page. As we've learned, it's important to work keywords into every webpage you own or use and Author Central is no exception.THIS article I wrote for nessgraphic.com will walk you through the process of setting up your Author Central account with easy to follow, step-by-step instructions.
Metadata
When uploading a book on to KDP for Amazon, Ingram Spark or Draft2Digital, authors and publishers are asked to supply a limited number of keywords for their metadata. While it may seem obvious that you should use as many keywords and categories as the host site allows; I'm often astonished to see metadata set up with very few or no keywords.Set your books apart by choosing keywords and categories that are specific but not obscure. I.e. "young adult fantasy romance" is specific. "Young adult green alien slime love story" is obscure and most likely will not be research which therefore renders the keyword useless.
Amazon Ads

One of best ways to use keywords is in Sponsored Product ads on Amazon. You can access the ad dashboard via the "Promote and Advertise" button from your Kindle Direct Publishing (KDP) account which will lead you to Amazon Advertising.


New Shelves recommends Sponsored Product ads which are Cost Per Click ads utilizing keywords that get your product featured in more Amazon searches, fulfilling the goal of getting your book seen so it can be bought.

Here is an example of a Sponsored Product ad where I searched "best mystery books 2020".

If you're interested in learning more about running Amazon Ads, our good friend Bryan Cohen is running one of his wildly popular Amazon Ad Challenges beginning April 21st. It's free to sign up and you will learn a TON.
Final Word of Wisdom
Keep in mind that keywords do need to be updated every few months. However, once you have your initial list of 1,000 keywords and you are actively using them in your book marketing strategy, updating and maintenance should be a breeze.
Now get out there and begin building your keyword list so you can start benefiting from the magic of keywords sooner rather than later!
Some links within this post contain affiliate code.