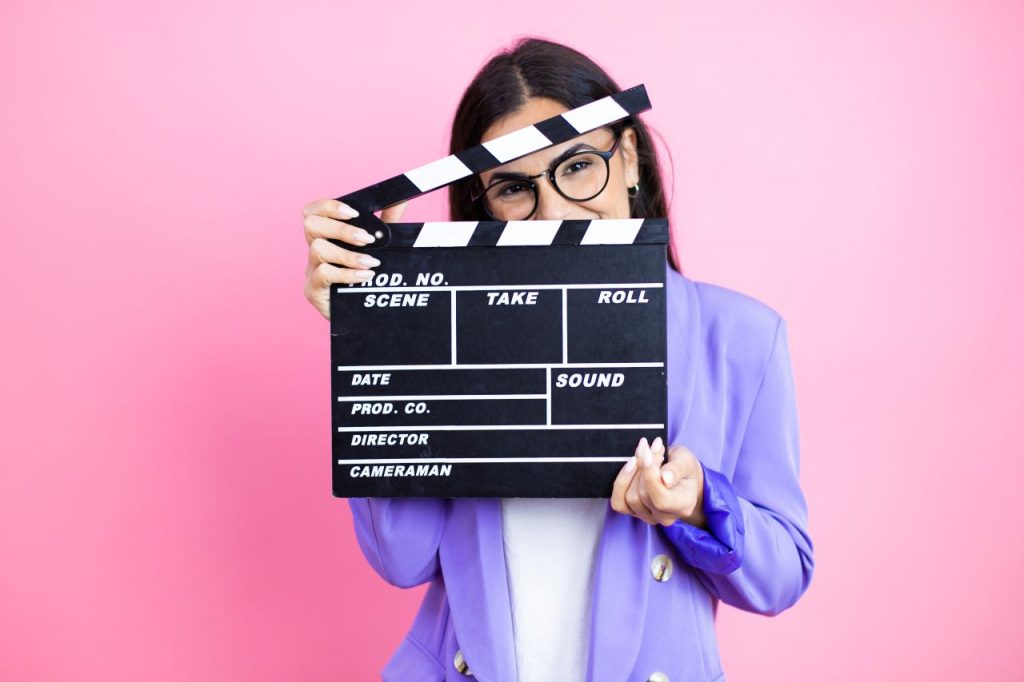 Video Marketing Isn't Slowing Down – It's Taking Off!
Experts agree that video marketing is expected to be one of this year's top trends, especially for book marketing. BookTok caught fire, and now big retailers like Barnes and Noble are dedicating display tables to books trending on TikTok. Agents are even signing authors based on their TikTok videos and their following on video heavy platforms.
So, video content marketing hasn't just taken off on social media, it is also impacting how books are selling in the real world.
"As of 2020, 96% of consumers increased their online video consumption, and 9 out of 10 viewers said they wanted to see more videos from brands and businesses. In fact, as of 2022, an average person is expected to spend 100 minutes per day watching online videos." – invideo.io
For better or worse, this is where we're at. And if people are going to watch online videos that much, you need to create video content so it is your videos they are watching.
Why Video? What's So Great About It?
Videos get browsers to stop and watch. Just as images get people to stop scrolling on social media and take notice of a post, videos play automatically and grab attention. Videos draw viewers in to hear your voice, to see your copy and advertising, or simply to just focus on you, so they can build a relationship with you.
Videos are easy to engage with and share on social media. They play automatically. We scroll and then pause to engage with them—to watch or read the captions on the video. If a video makes us laugh, or feel nostalgic, we are likely to hit the "share" button. It's easy to engage with videos, and that is why they are so popular.
Videos help build relationships and increase the trust factor. When people see your videos, they feel like they are getting a glimpse of you, your book, or your publishing company. When you have a face-to-face conversation with people, they start to feel like they know you. If they know you, they are more likely to trust you. And if they trust you, they are more likely to buy whatever product–or book–you are selling.
Show Me the Money
I know, I know. You want to know how video is going to affect your bottom line. I've got great news for you, because video is proven to increase conversions. People may not read a blog post or open up an email from you, but a video may easily entice them to stop for a few minutes and listen to you talk about your book. Those few seconds of video are proven to boost conversions and sales.
The numbers vary widely—with companies reporting conversion statistics  as low as 40% to as high as 80%. I believe the high conversion rates have a lot to do with trust and just how easy it is to view, react and respond to video. We aren't asking browsers to use too many calories. (Mental activity actually burns calories. The less cognitive the task, the less calories we burn.) With videos, we are inviting viewers to sit back and relax as we spoon feed them our ad copy and the information about our book. It's a win-win in which the viewer uses less brain power, and we, in turn have the time to build trust and convert browsers into buyers.
Video Ad Copy Shows Great ROI
It makes sense—if you are getting more organic (a.k.a. free) traffic and seeing increased sales from video, video creation is probably a good investment of your time and money.
But is investing in advertising with video content worthwhile?
For us as authors it is not just about writing and selling books, it is about selling our books and making a profit. It's about being smart with our business and making a worthwhile ROI.
Even though there is some discrepancy in the conversion rates for using videos, it seems that businesses are convinced that the ROI is significant.
According to the 2022 Video Market Report from Wyzol:

87% of marketers say video has helped them increase traffic.
86% of marketers say video has helped them generate leads.
81% of marketers say video has helped them directly increase sales.
93% of marketers say video has helped them increase brand awareness.
87% of marketers say video has helped them generate good ROI.
It is not often we see so many people agree that something is a good investment. With 87% of marketers reporting good ROI on video campaigns, I think we can take that as a strong indicator that video content marketing will work for us as well.
Not "If," But "How"
So, the question now is not IF you will use video in your 2022 marketing plan, but HOW you will use video in your 2022 marketing plan. TikTok? YouTube? Facebook ads? Let us know in the comments below.