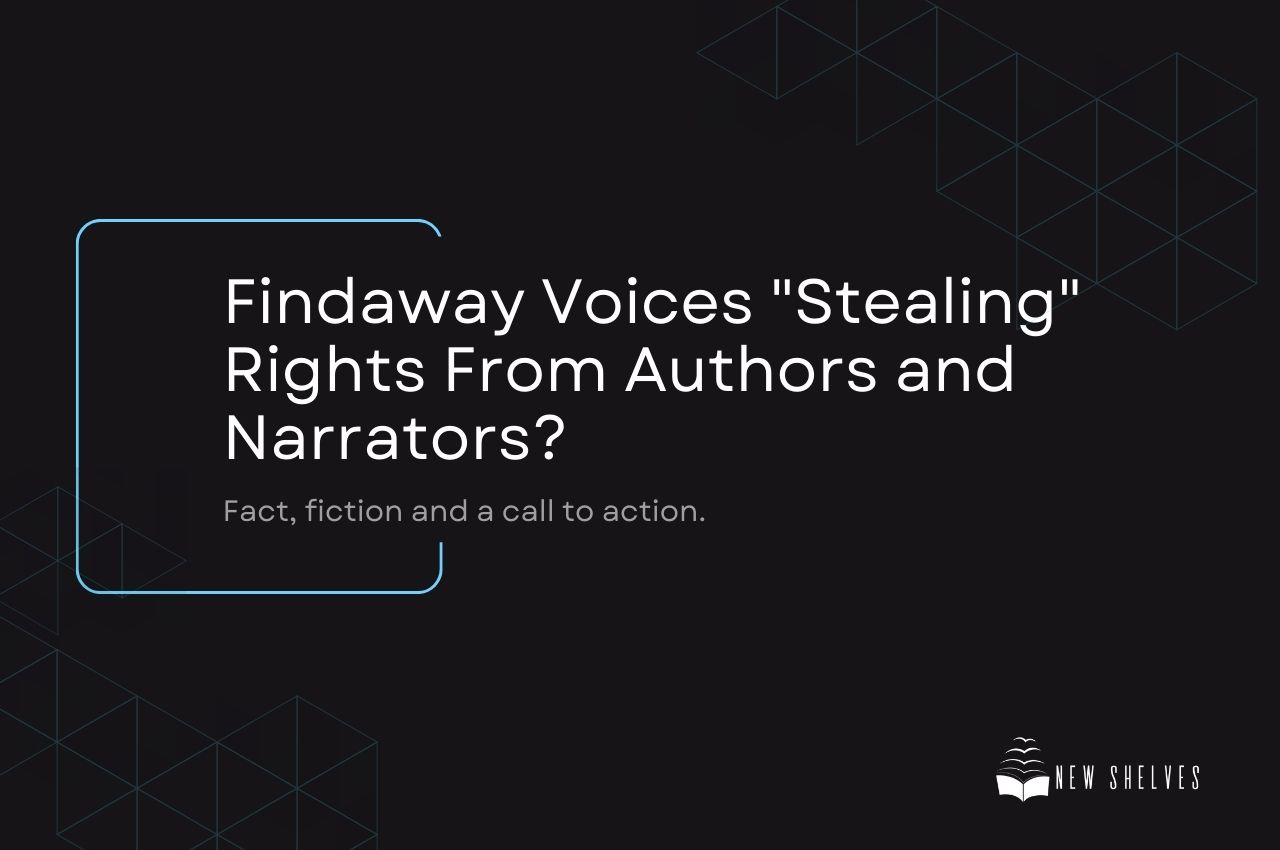 A screenshot of a portion of the Findaway Voices Distribution Agreement detailing a license agreement with Apple for "Machine Learning" has been making the rounds on blogs, on TikTok and in author and voice artist groups worldwide.

Is it true? Has Findaway Voices slipped a licensing agreement into their terms that automatically allows Apple to use audio files for A.I. training without compensating either the author or the voice artists? Worse yet, is this being done without the voice artists knowledge or permission?
Let's look at the facts.
Apple and A.I. Narration
Apple released their first A.I. narrated audiobooks in December 2022. We covered this and other audiobook news in this video the first week of January 2023.
Apple has since made announcements that they are partnering with both Draft2Digital and Ingram CoreSource for the production and distribution of A.I. narrated audiobooks.

Draft2Digital Partnering with Apple
Draft2Digital COO, Dan Wood, sent an email to select Draft2Digital users on January 27, 2023 that opened with, "For the past year Draft2Digital has been working with Apple Books on their exciting new digital narration technology. This program creates compelling audiobooks from the ebooks you already have, with little effort on your part and is currently free of charge."
The email goes on to say that authors will have a limited choice of narrator voice (English langauge, American accent only at this time), Apple will review the title, narrate the book and, if all goes well, the audiobook will be available for sale on Apple Books in as little as one month. Authors may also look forward to Draft2Digital making the A.I. narrated audiobook available for sale to library systems "soon".
Shortly after the above referenced email was released, a landing page specific to digital narration was spotted on the Draft2Digital website.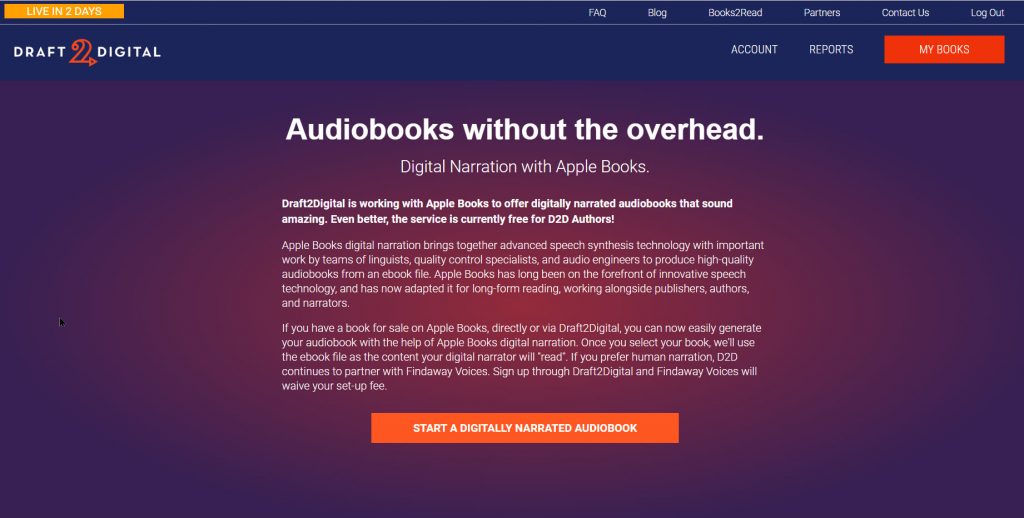 The notice reads as follows:
Draft2Digital is working with Apple Books to offer digitally narrated audiobooks that sound amazing. Even better, the service is currently free for D2D Authors!

Apple Books

 

digital narration brings together advanced speech synthesis technology with important work by teams of linguists, quality control specialists, and audio engineers to produce high-quality audiobooks from an ebook file.

 

Apple Books

 

has long been on the forefront of innovative speech technology, and has now adapted it for long-form reading, working alongside publishers, authors, and narrators.

If you have a book for sale on

 

Apple Books, directly or via Draft2Digital, you can now easily generate your audiobook with the help of

 

Apple Books

 

digital narration. Once you select your book, we'll use the ebook file as the content your digital narrator will "read". If you prefer human narration, D2D continues to partner with Findaway Voices. Sign up through Draft2Digital and Findaway Voices will waive your set-up fee.
Findaway Voices Partnering with Apple
Findaway Voices (which was acquired by Spotify in 2022) is partnering with Apple both for audiobook distribution and sales as well as licensing files for "machine learning".
If you need more concrete proof than a isolated screenshot, this video will show you the most updated Findaway Voices Distribution agreement (as of this posting) directly from a Findaway Voices account.
What's more, this agreement has been in place since September 2022.

Is this stealing? That's a gray area. Technically the publisher would have to agree to the terms for their book to be distriuted by Findaway Voices. However, the narrator has no voice in this agreement and there is a strong argument that the publisher cannot agree to the licensing agreement on the narrator's behalf.
Who's Really Winning?
Some authors will see Findaway Voice's partnership with Apple as a win. Audio files can be licensed to Apple for continued improvement of A.I. Narration which is in turn (currenlty) being offered to authors and indie publishers for free. Authors who take advantage of A.I. narrated audiobooks will be given a new product to sell in a booming marketing without having to front a cent for production. But what's the real cost of this "free" service.
Authors using human narration on Findaway Voices pay the narrator for completed audiobook files. Authors upload to Findaway and sign their distribution agreement. Findaway licenses (we assume for a fee) audiobook files to Apple for Machine Training for A.I. Narration. Authors, who have subsidized the cost of narration, do not receive a cut of any licensing fee paid to Findaway Voices. Apple uses the audio files to improve their A.I. Narration which they may eventually charge authors and publishers to use. Apple also stands to make a profit on A.I. Audiobook sales from the Apple Books store.
Findaway Voices and Apple both win in this scenario, as do some authors receiving free A.I. audiobook narration. The authors paying for human narration and the human narrators they contract with? Not so much.
Narrator Prespective
In the words of Laura Horowitz, "Spotify has been selling the rights to my voice to Apple Books directly for their use for machine learning and A.I. narration without my consent and without compensating me." Her viral TikTok video goes into further detail of how narrators are being subjected to the Findaway Voices Distribution agreement even though they have not personally agreed or signed any such document.
Horowitz ends the video by entreating authors and publishers to write directly to Findaway Voices at support@findawayvoices.com to revoke the portion of the distribution agreement titled "machine learning." A call to action that I personally agree with and support.
Below is a template that can be used when emailing Findaway Voices regarding this issue:
To Whom it May Concern:
It has come to my attention that part of the Findaway Voices Digital Distribution Agreement dated September 7, 2022 contains the following paragraph:
"Machine Learning
Rights Holder grants Apple a limited, non-exclusive, non-transferable, non-sublicensable right and license to use Audiobooks files for machine learning training and models, provided that in no event shall any Rights Holder Audiobooks or portion thereof be provided to any third party or end-user in contravention of this Digital Distribution Agreement (e.g. making Rights Holder content available for free to end-users without express written consent). Rights Holder may revoke this right and license by sending Notice to Findaway as outlined in Section 11."
Per Section 11 of the Agreement, this email serves as notice that I do not authorize the licensing or third party use of my audiobook files for "machine learning" and I revoke the right to third party licensing, including to Apple, for any and all current and future audiobooks within my Findaway account. I expressly forbid the use of my/my narrator's voice for any purpose whatsoever other than the express use as a single discrete use per project.
Further, I am requesting a list of any of my materials that have been provided to any and all parties under the "Machine Learning" clause in my distribution contract.
Please confirm receipt and compliance.
Thank you.
**Author's Note: I am not opposed to A.I. narration. However, I do believe artists should have the right to choose to license their voice (or not) and be paid fairly for their time, talent and craft.**