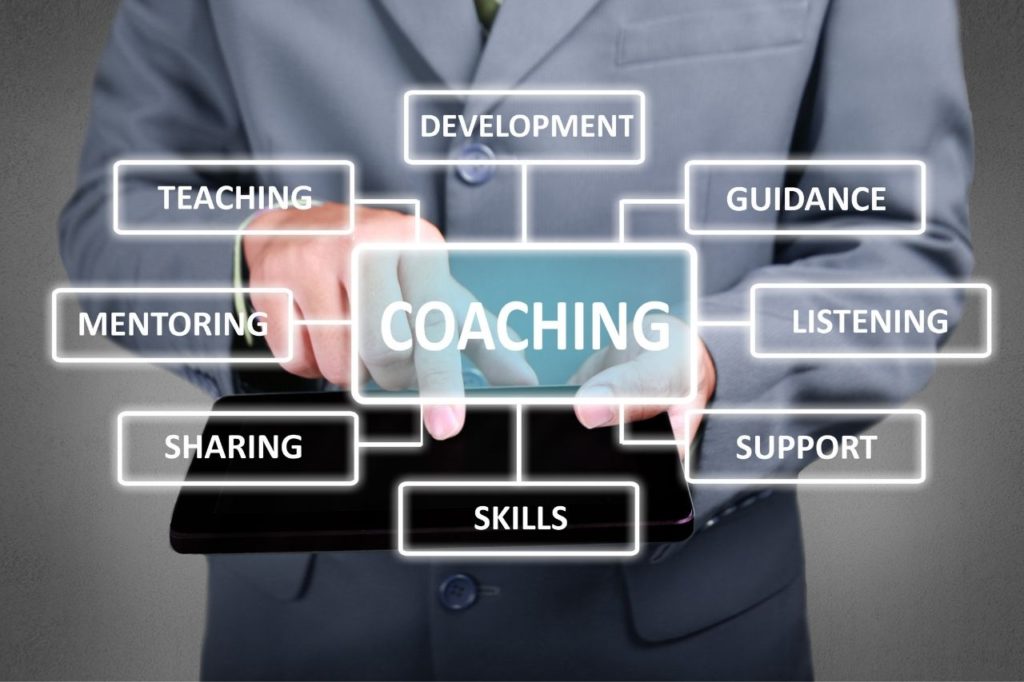 Writing is most often a solitary business

—

but it doesn't have to be. 
All too often, we writers have to motivate ourselves, isolate ourselves until our pages are done, pat ourselves on the back when things work out and console ourselves when they don't. But it doesn't have to be that way, even if you're not part of a writing team or group. You can work with a writing coach.
People often assume that working with a writing coach implies that you need someone to hold your hand. That may be true, and there's nothing wrong with that. But a writing coach relationship extends way beyond encouraging you, holding you accountable or even teaching you about the craft of writing. It's like having a team member who has managed to retain the perspective that can so easily be lost when immersed in a big project. As the writer, you're in the trees by definition. Your writing coach still has a sense of the forest as a whole.
However, not all writing coaches are created equal, and not all coaches and writers are a good match. Here's the the 411 on Writing Coaches.
So, how do you go about choosing a writing coach who will work for you?
You want to find one who fulfills your needs. Just as no two writers work the same way, writing coaches have different styles. I've even heard of coaches who don't read what their clients write, which puzzles me to no end. That's like writing about food you don't taste. Some coaches will help you figure out the scope of your book and the outline, and then consult with you before you write each chapter, which they then review. Others, like me, provide accountability while also becoming an integral part of your creative process.
I know all about the lure of cleaning a toilet (!) if it'll keep the act of writing at bay. Facing that blank computer screen or piece of paper is almost always daunting. Whether the problem stems from not knowing what to write or not knowing how your ideas fit together, a writing coach can help. Instead of tormenting yourself when you hit a roadblock or can't get started, you can talk out your ideas until they take shape. After two decades of working with writers, I firmly believe that brainstorming allows each of us to tap into a different part of our brain than the one we utilize while writing. In addition, brainstorming is like a dynamic mental jungle-gym, allowing the participants to climb to heights neither would have reached alone.
Of course, writing coaches can also offer an ear, feedback, encouragement and an occasional reality check when absolutely necessary.
I believe a writing coach should:
Critique pages you've already written and provide feedback on the growing pile of new ones;
Help you explore and organize your thoughts, enrich your work and find your voice—whether you're just beginning or have a full draft;
Help you design a realistic schedule and hold you accountable to target goals and dates;
Keep you motivated and directed;
Provide writing tips to help you focus as you work on your next installment;
Direct your rewrite(s)—a fact of life for every writer, no matter how experienced;
Encourage you every step of the way.
Since writing coaches usually work virtually, you can tap Google to find candidates. Of course, if you're part of a writing group or an online writing community, I would also ask for referrals. Then reach out. Most writing coaches offer a free consultation since that's the only way to ascertain if you're a good fit, so don't pass that up.
Be prepared to interview prospective writing coaches.
During that initial phone conversation, you'll want to make sure the interaction makes you feel pretty darn comfortable and that the writing coach asks about you, your project and what you want help with rather than merely offering a sales pitch.
Questions to ask a prospective writing coach (assuming this information isn't on the coach's website) include:
How long have you been a writing coach?
Do you work with the genre I'm writing?
What is your writing coach process?
Are the sessions customized to each client, or do they follow a prescribed system?
How often do you "meet" with clients?
Can you be flexible if schedule conflicts arise?
How do you charge?
What are your strengths as a writing coach?
There are no right or wrong answers here. Even writing coaches who don't read pages will work for an author who just wants a cheerleader and an action plan or a motivating pep talk to help them sit down to write. It's all about finding that person who can best meet your specific needs. Here's to figuring out what works for you and to writing the best book you possibly can.
Linden Gross is a bestselling writer and acclaimed writing coach who has helped other writers become bestselling authors. She draws on her editing and writing background, as well as her love for teaching when working with others. Learn more at www.LindenGross.com.