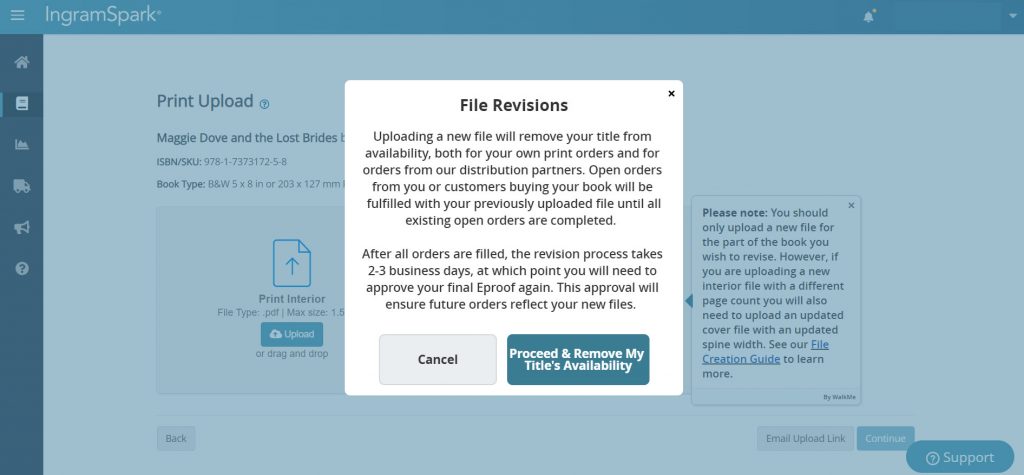 A New Pop-Up Notification
Recently, while uploading a revised file for a client on IngramSpark, I noticed a new pop-up.
File Revisions:

Uploading a new file will remove your title from availability, both for your own print orders and for orders from our distribution partners. Open orders from you or customers buying your book will be fulfilled with your previously uploaded file until all existing open orders are completed.

After all orders are fulfilled, the revision process takes 2-3 business days, at which point you will need to approve your final Eproof again. This approval will ensure future orders reflect your new files.
While some of this information is well known, the part about removing the title from availability during the revision process was news to me—and to others I later spoke to.
What Does This Mean for Authors?
When uploading file revisions, existing orders will continue to be fulfilled using the last approved file. However, your title will be removed from availability for new orders during the revision and approval process.
How Long Does the Revision Process Take?
Well… that depends. According to the IngramSpark user-guide (Version 1.7, dated November 16, 2021) the revision process doesn't even begin until current orders are processed.
OPEN ORDERS: If a title has one or more open orders placed against it, revisions or resubmissions will be processed upon the completion of all outstanding orders. There is no guarantee as to how quickly production orders will be fulfilled so the revision or resubmission can be completed. Therefore, revisions will not impact orders in process, but revisions will not be processed until all orders sent to the print floor are complete.
A title that has multiple open orders when the revision is submitted would take much longer to process than a title with no open orders. Revisions submitted on weekends or over holidays may also take longer to process as well.
Tips For Avoiding Revision Delays
While some delays may be unavoidable, there are a few steps authors and publishers can take to speed the revision process along.
Ensure you have the correct files before starting the revision process.
Upload revised files during regular business hours on a weekday.
Avoid beginning revisions on weekends or holidays.
Check your IngramSpark account and email regularly after uploading revised files for updates.
Promptly approve the updated files once they have been processed by IngramSpark.