You may or may not be aware of the brand usage rules at Amazon.  The marketplace is starting to crack down on this.
An author we know went online a week or two ago, and she was flabbergasted because Amazon had closed her access to their affiliate program. She then received an email explaining why.
It all stemmed from a picture on her Instagram feed showing that her book had achieved the #1 post on Amazon.com in her genre. She had earned the Amazon #1 badge rightfully from being a bestseller, so she took a screenshot of her book cover with the badge and posted it on Instagram.  Well, apparently this isn't allowed.
---
Let's take a look at the rules and guidelines on Amazon.com and review what is and isn't allowed when you are using Amazon.com's branding.
Amazon.com has very specific ways in which you can use their logo on your website.  If they go to one of your pages and see that you are misusing their brand in some way, they will come after you.  Authors and publishers have had their books pulled down until the offending item was deleted or fixed.  Other authors have lost access to their advantage, marketing and affiliate programs.
Everything is laid out for you in their brand usage guidelines and in their brand permissions.  We are covering some of the highlights here, but you can also visit these pages to (and you SHOULD):
According to their site, "You may not use any Amazon logos or other Amazon trademarks, other than the Badge, in your online or offline marketing materials (including product listings on Amazon websites) unless you have written permission from Amazon."
Now, keep in mind that over time Amazon's rules change, so be sure to stay updated regarding these rules.
---
For now, let's start with a few of the more surprising rules:
Can you say, "Amazon #1 Best Selling Author"?
When I read the rules I learned that we are not allowed to say "Amazon #1 Best Selling Author," without permission.  You need to get permission, and you are definitely not allowed to use their #1 stamp without it.
You CAN say, "#1 Best Selling Author," if you don't include Amazon.
Are you allowed to say "amazon.com" with all lowercase lettering?
You have to capitalize Amazon.com
When you send a newsletter out or post to your website and ask people to check something out on Amazon.com, if you don't capitalize "Amazon" you are in violation of their brand use policy.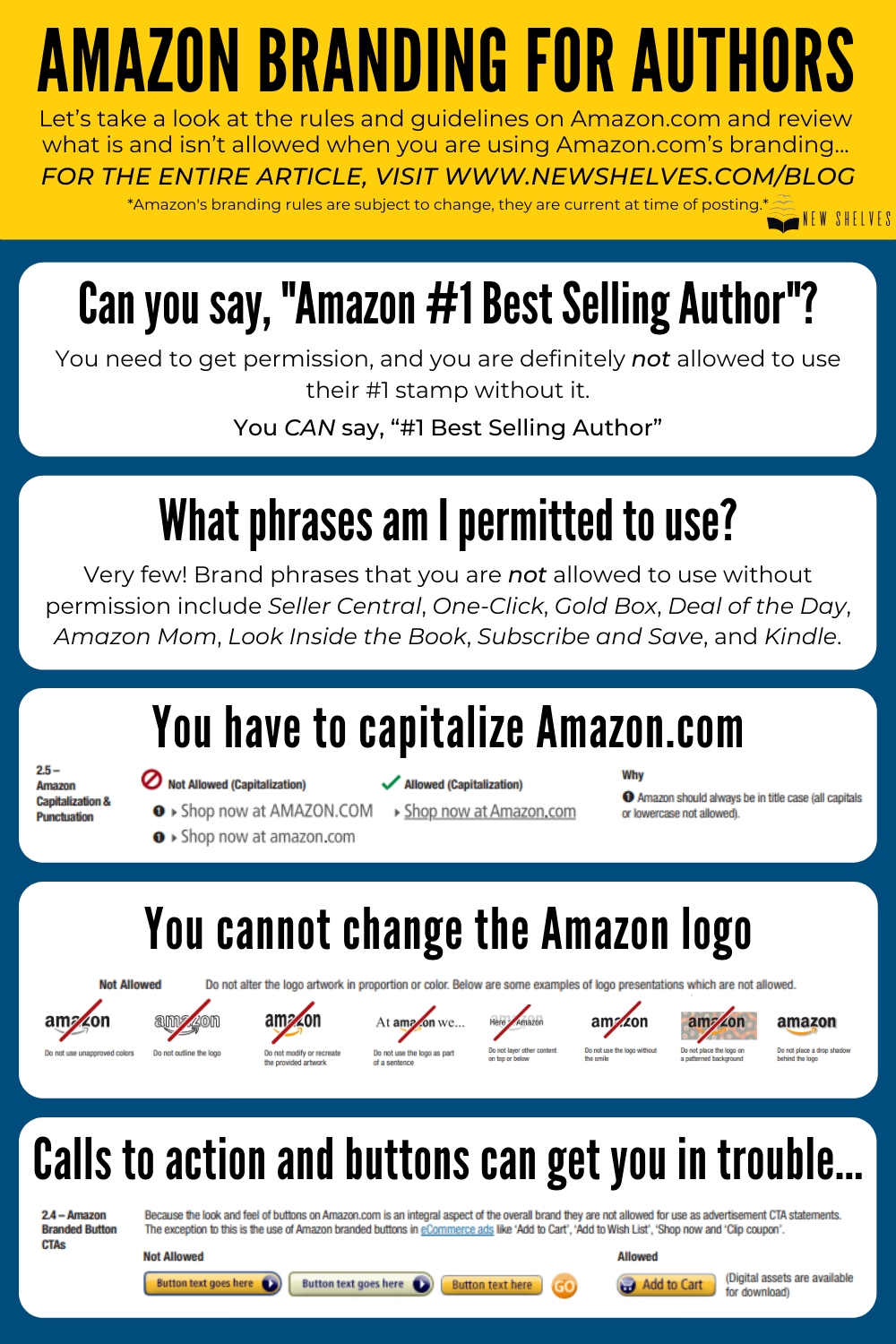 What phrases am I permitted to use on your blog or website?  
Very few! Brand phrases that you are not allowed to use without permission:
Seller Central
One-Click
Gold Box
Deal of the Day
Amazon Mom
Look Inside the Book
Subscribe and Save
Kindle
These are branded phrases that you need to get permission to use in order to be safe.  Amazon has an email that you can use to request permission to use their brand, logo, and phrases.  trademarks@amazon.com  You don't have to wait very long for approval, but it's pretty astounding that you have to ask permission to use some of this branding or that some of these rules exist.
You aren't allowed to use the Amazon logo in black and white.  You have to use the colors of their brand.
You can't drop a shadow behind their logo or outline it either.
You can't modify their logo in any way.  (Please make sure you get the logos FROM the Amazon site and do not depend upon Google!
If you want to show an image of your book on an Amazon device or page, then you need to read this:
---
Call to actions and buttons can get you in trouble…
You are allowed to say, "Shop Now," and, "Preorder Now," but you aren't allowed to use anything that looks like an Amazon button. (They will see that as a violation of their brand usage.)
You are also not allowed to overpromise with enticing language such as "treat yourself."
Hopefully, you can see how important it is that you review Amazon's guidelines concerning the use of their branding.
The reason I am going SO deeply into this is because my friend's access to her affiliate program was shut down just because she used the badge that Amazon PUT ON HER BOOK PAGE.  All she did was take a screenshot of their image on her page and put it on social media… none of us had any idea this was a "no no."
Sellers on Amazon who are wondering if they are in compliance can read the rules here: http://sellercentral.amazon.com/gp/help/external/200573210
I know it may seem like I am worrying too much, but authors are starting to get clipped for violating Amazon's rules and I don't want Amazon to take your book down, block your blog on your Author Central page, or shut down anyone's Seller Central or affiliate accounts.