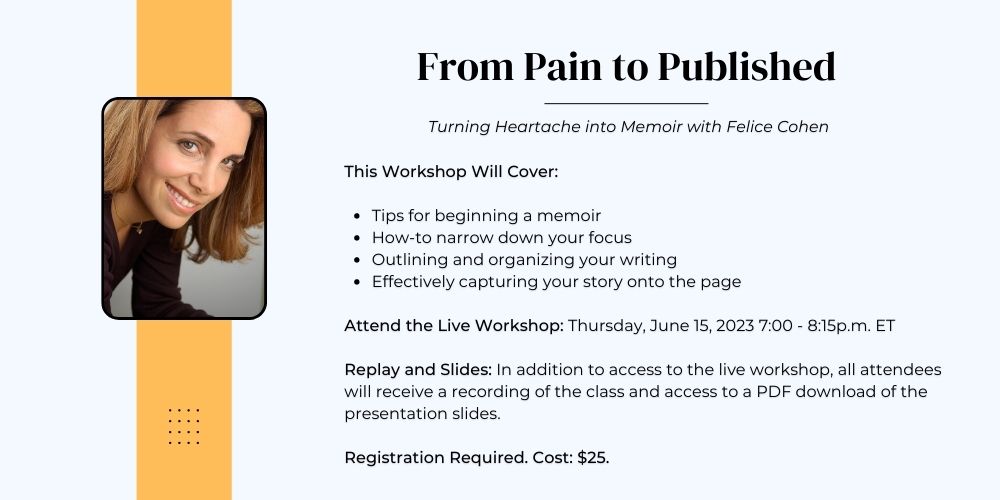 Have you dreamed of writing a memoir but didn't know how or where to begin? Or thought taking the time to write about what happened to you was selfish? It's not. It's therapeutic.
Writing as a way of healing helps you get over pain in a constructive way and helps you find inner peace by focusing on the "Inside You."
Pain doesn't distinguish between gender, religion, socioeconomic, or color, it lies beneath the surface—inside you. Though we each have a unique experience, we can heal the same way: by writing down what hurt us, still hurts us.
Whether your dream is to publish your memoir, share it with family or just get it on paper, this class will help you with the first step in your healing journey.
This Workshop Will Cover
Tips for beginning a memoir
How-to narrow down your focus
Outlining and organizing your writing
Effectively capturing your story onto the page
The speaker will touch upon examples from her own experience of heartache and loss and how she used writing to heal and create her award-winning memoir Half In, as well as What Papa Told Me, a memoir about her grandfather, a Holocaust Survivor.
This Class Is Best For
Journal writers, essayists and anyone passionate about turning their personal stories of heartache, loss or trauma into memoir.
Attending the Class Live
This class will be hosted on Zoom. When you register, you will receive information via email on how to join the class.
Day: Thursday, June 15, 2023
Time: 7:00 p.m. – 8:15 p.m. ET
Replay and Slides

In addition to access to the live workshop, all attendees will receive a recording of the class and access to a PDF download of the presentation slides within 3 business days of the live presentation.
About the Presenter
Felice Cohen, known nationally and internationally as the woman who lived in one of the world's smallest apartments, is the award-winning author of "Half In: A Coming-of-Age Memoir of Forbidden Love," "90 Lessons for Living Large in 90 Square Feet (…or More)" and "What Papa Told Me."

"Half In" won the 2022 "Outstanding LGBT Book of the Year Award" (fiction and non-fiction) from the Independent Author Network. "90 Lessons," the recipient of numerous self-help book awards, was inspired by the YouTube video of Felice's 90-square-foot New York City studio that went viral with over 25 million views. Felice has been featured on Good Morning America, NBC, CBS, NPR, Time, Globe & Mail, New York Daily News, the Daily Mail and more. What enabled Felice to "live large" in that tiny studio is that she has been a professional organizer for over 25 years.

As the grandchild of two Holocaust survivors, Felice's book, "What Papa Told Me," a memoir about her grandfather's life before, during and after the war, was endorsed by Elie Wiesel and Yad Vashem: The World Holocaust Remembrance Center in Jerusalem, is taught in schools across the country, has been translated into Polish, and has sold over 35,000 copies around the world. Felice splits her time between New York City and Cape Cod.